Expeditions: Bay Area
The first cross-country Expeditions trip took students on a tour of companies in San Jose, California.
Enlarge
×
ECE brought 18 students to San Jose on Sunday, February 26 for the second ECE Expedition. The students, ranging from freshman to doctoral level, spent three days of their spring break learning from professionals in their field and getting a firsthand look at where their degree could take them after graduation.
Enlarge
×
Envisioned by the ECE Advisory Council, the ECE Expeditions program was created to expose students to the many different types of jobs and companies available to them in electrical and computer engineering. The expeditions also allow students to learn about different business and company atmospheres. This trip gave students an inside look at seven tech companies: Exponent, Cisco Systems, 8×8, ARM, KLA-Tencor, Synaptics and Cavium – most founded or run by ECE alumni.
Each visit was unique, but all featured a mixture of company presentations, panels with current ECE engineers, lab tours and product demos. All of the organizations were excited to host the students, and the students were thrilled to be there.
"My favorite part was seeing different parts of CE/EE that I had no idea existed," says Blake Babbs, a junior on the trip. "I liked that we didn't visit all huge companies and instead hit smaller companies with products or offerings I had never heard of."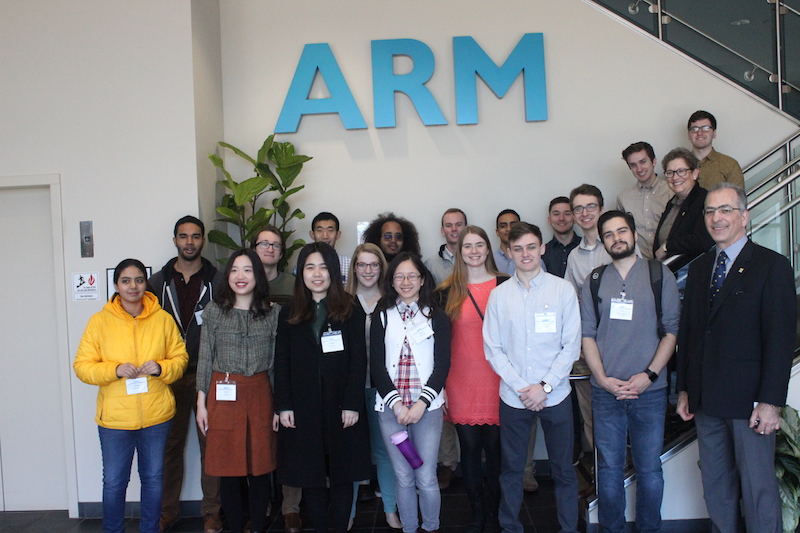 Enlarge
×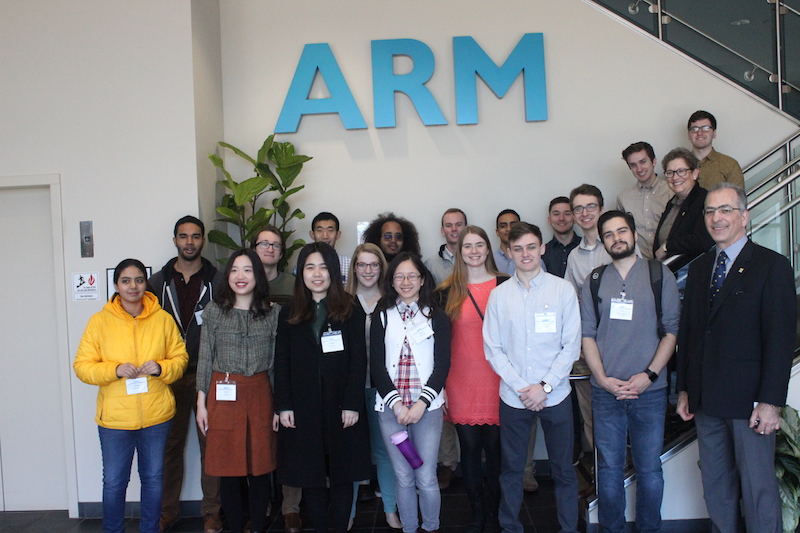 In addition to the behind-the-scenes access, the expedition also offered students a valuable chance to network with working engineers. With several of the companies founded or led by ECE alumni, students were thrilled to hear success stories from their very own program.
"I loved the engaging talk with the KLA-Tencor CEO," says junior Melinda Kothbauer of ECE alum Rick Wallace. "He was able to give us a lot of insight into the company operations."
Students also enjoyed their session with ECE alum Sassan Teymouri, who provided an entrepreneurial perspective from his 30 years of work with startup companies. Profs. Khalil Najafi and Yogesh Gianchandani and alum Karen Fireman went along with the group, offering their own advice and having their share of fun on the company tours.
Enlarge
×
"You could clearly see that the students were excited by the new opportunities they were shown." says Prof. Najafi, Peter and Evelyn Fuss Chair of ECE. "They seemed to especially love it when the CEOs and engineers talked about their own experiences. I'm grateful to have an advisory council that cares so much about our students."
"I loved every part of the program, especially seeing alumni thriving in their domain and listening to their stories in person," says Master's student Ke Yu.
For some in attendance, the expedition was also a chance to make closer friends in their major. They gathered for a group dinner on Sunday to get to know each other, and many chose to spend their remaining nights exploring the Bay Area scene together. The students went to Tesla's dealership, the Intel Museum, and downtown San Jose.
"My favorite part of the trip was building a network from the ECE students that attended!" added Melinda. "I think this was one of the most valuable parts because it will benefit me for a long time."